COMFORT SYSTEMS
Is it time for a new HVAC system in your home or business? Our Comfort Consultants are available to meet with you to evaluate your HVAC needs to match you with the best system available. Choosing the right system will have an effect on your overall comfort and energy bills. We offer free, no obligation quotes on replacement units. Browse our Comfort Systems below. Convenient financing options available.
SPLIT SYSTEMS
In a split system, your comfort system has products that reside both inside and outside your home. A split system usually includes the following:
Furnace―Provides heating comfort for your home
Evaporator coil―the indoor component of your outdoor cooling unit
Air conditioner or heat pump―works with the evaporator coil to cool your home
Ducts―Part of the system that distributes conditioned air throughout your home
Thermostat―your interface for controlling your system
Optional air quality accessories―clean, humidify, and freshen air before it circulates throughout your home
Some split systems consist only of an outdoor unit―such as a heat pump or air conditioner―and an inside fan coil. If that's the case, there's usually another heat source in the home like baseboard heat or a boiler.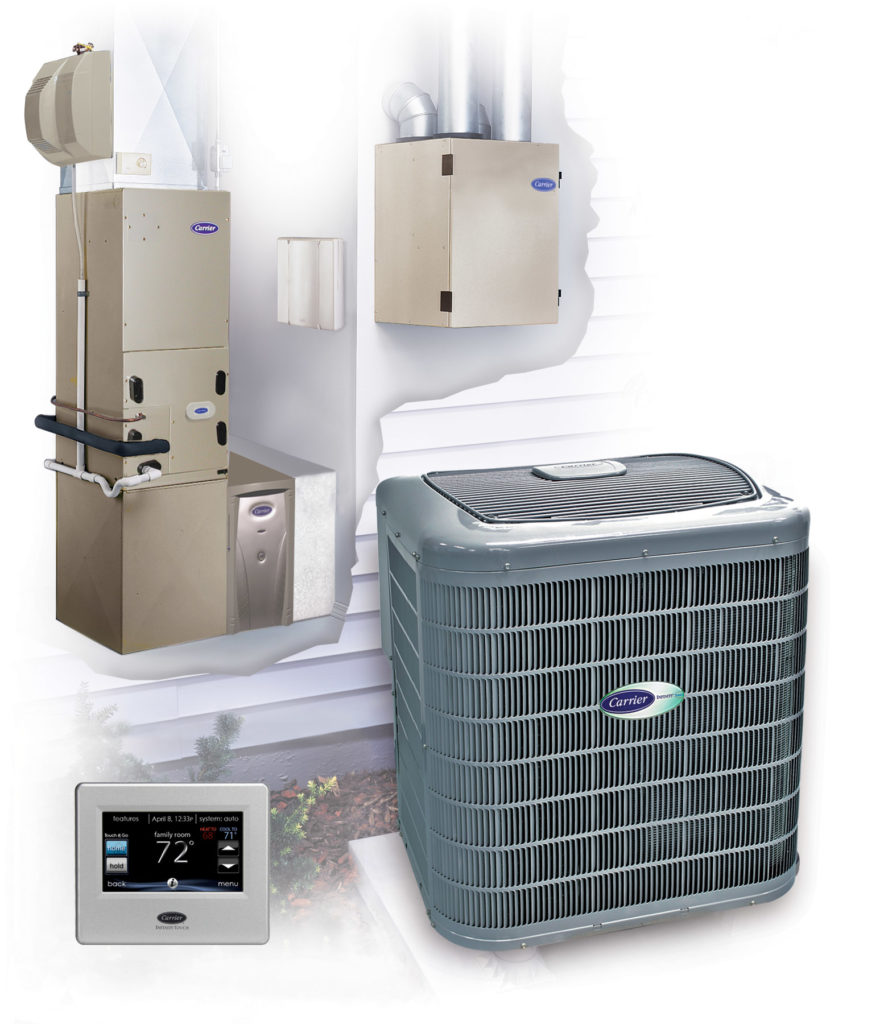 Hybrid Heat® Split Systems
It's a smarter version of your standard split system, with an energy efficient twist: In addition to gas furnace heat, this system automatically figures out how to get the best efficiency by also using an electricity-fueled heat pump to provide warmth. Bonus―the heat pump functions in the place of an air conditioner too.
In the warmer, humid climates of the south you might consider a high performance heat pump with a lower efficiency and lower up front cost furnace so you can have the furnace as backup heating on really cold nights, while taking advantage of the high-efficiency heat pump most of the year. A heat pump with a variable-speed compressor matched to a furnace with a variable-speed blower motor can do an amazing job of pulling humidity out of the air in the summer to save money.
Meanwhile, in colder climates, it's best to pair your heat pump with a high-efficiency furnace. Despite the cold, you might be surprised by just how much mileage―not to mention cost-saving efficiency―you'll get from a heat pump in the spring, fall and, yes, even winter months.
A Hybrid Heat system includes:
Heat pump―provides summer cooling and dehumidification and warmth in cooler seasons
Evaporator coil―the indoor component of your outdoor heat pump
Furnace―provides heating and the fan is used year round to circulate air
Ducts―carry the conditioned air throughout your home
Thermostat―your interface for controlling your system
Optional air quality accessories―clean, humidify, and freshen air before it circulates throughout your home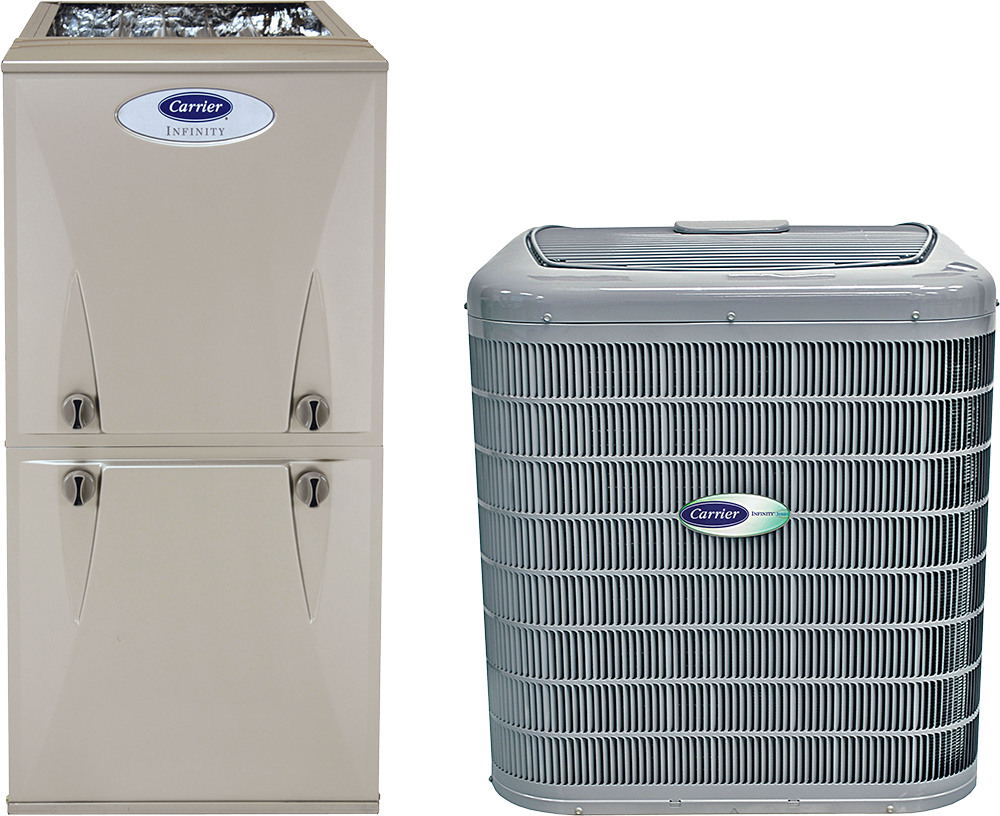 Ductless Split Systems
A ductless split system doesn't rely on air ducts to spread treated air in your home. Instead, this specialty system is designed to heat or cool room additions or other places that may lack ductwork, such as home theatres, exercise rooms, garages or any other area where the existing system doesn't quite cut it. Ductless split systems include:
Small outdoor air conditioner or heat pump unit
A compact indoor wall unit
Refrigerant tubing and wire connections ― pass through a small hole from indoor to outdoor unit to connect the system.
On unit or remote control ― your interface for controlling your system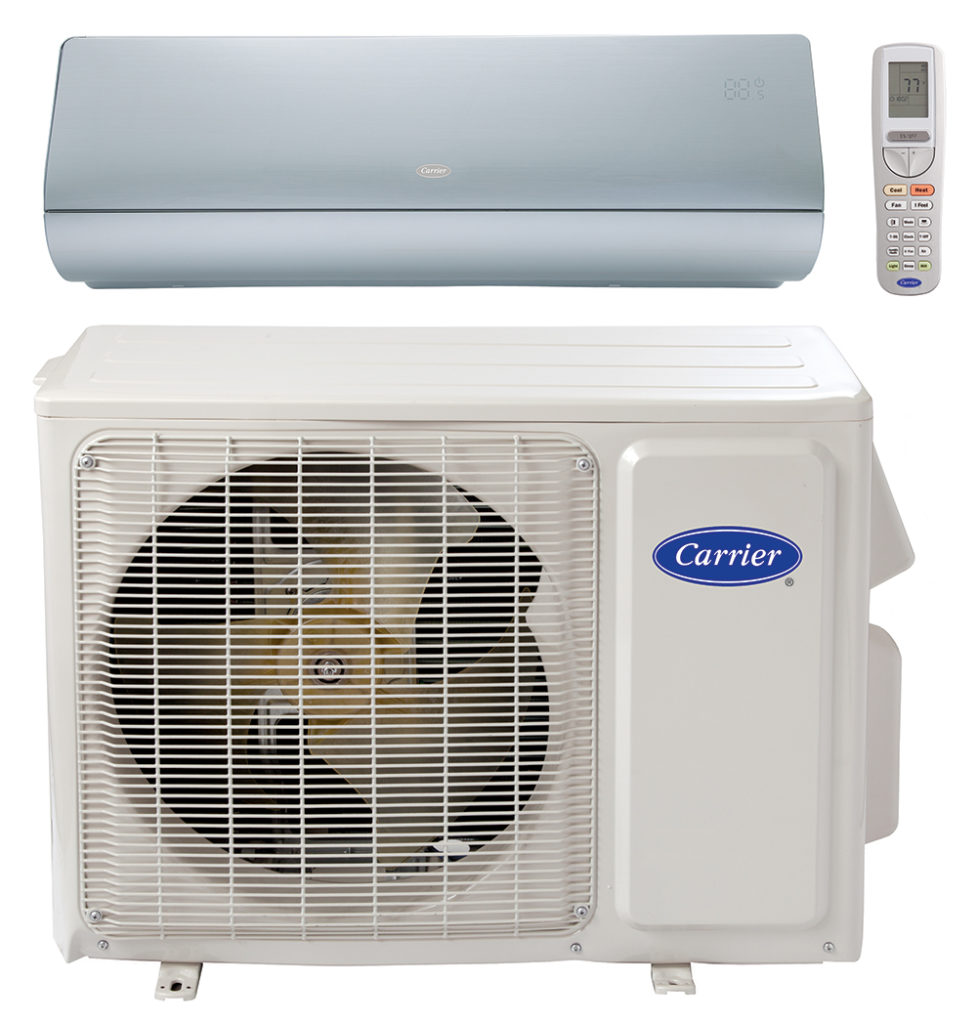 Packaged Systems
Some homes just don't have space inside for a furnace or the coil needed for cooling. That doesn't mean they can't be filled with the same comfort and improved air quality of a split system home.
Packaged units tend to all look alike but can do vastly different things:
Cool only as an air conditioner
Cool and heat as an electric heat pump
Cool and heat as a Hybrid Heat® dual fuel system of gas furnace with electric heat pump
Cool and heat as a gas furnace with electric air conditioner
As an all-in-one unit, the only other thing you need is a control or thermostat and, of course, ductwork to carry the conditioned air. Additionally you can add air quality accessories if you like. Packaged systems may be located on the exterior of your home, either on a flat rooftop or in the yard.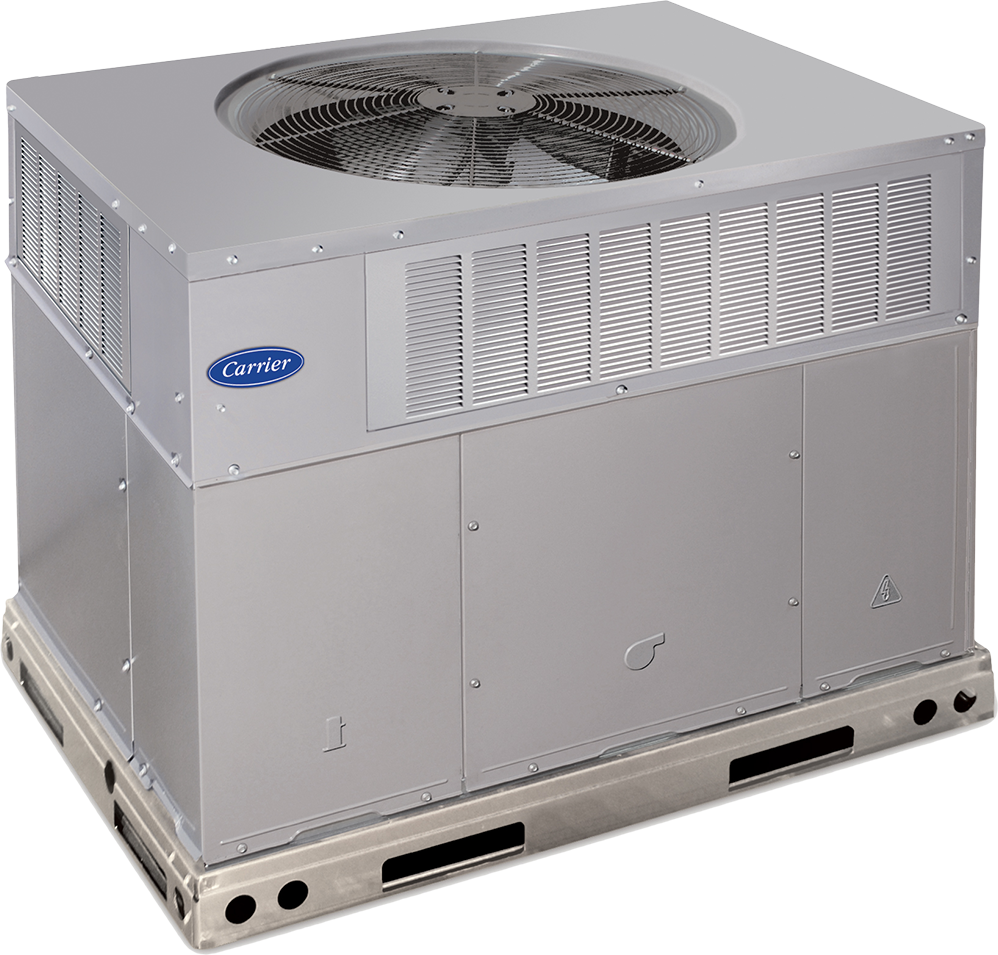 Geothermal Heat Pump System
Traditional heat pumps do the same thing as air conditioners but in winter, they do it in reverse, drawing their heat energy from the outside air. Geothermal heat pumps don't have to rely on the potentially wide temperature swings of outdoor air. They tap into the relatively consistent and more moderate temperatures of the earth instead. Using your yard, pond or well water, this ingenious technology enables you to enjoy higher energy efficiency inside your home—no matter how extreme the weather gets outside.
There are geothermal systems that can serve homes with ductwork or homes with radiant heat. The radiant heat versions are referred to as hydronic systems and some of those can also provide you with all your hot water needs.
A geothermal system can be used to provide all of your heating and cooling needs or you can pair it with a furnace for a dual fuel heating solution.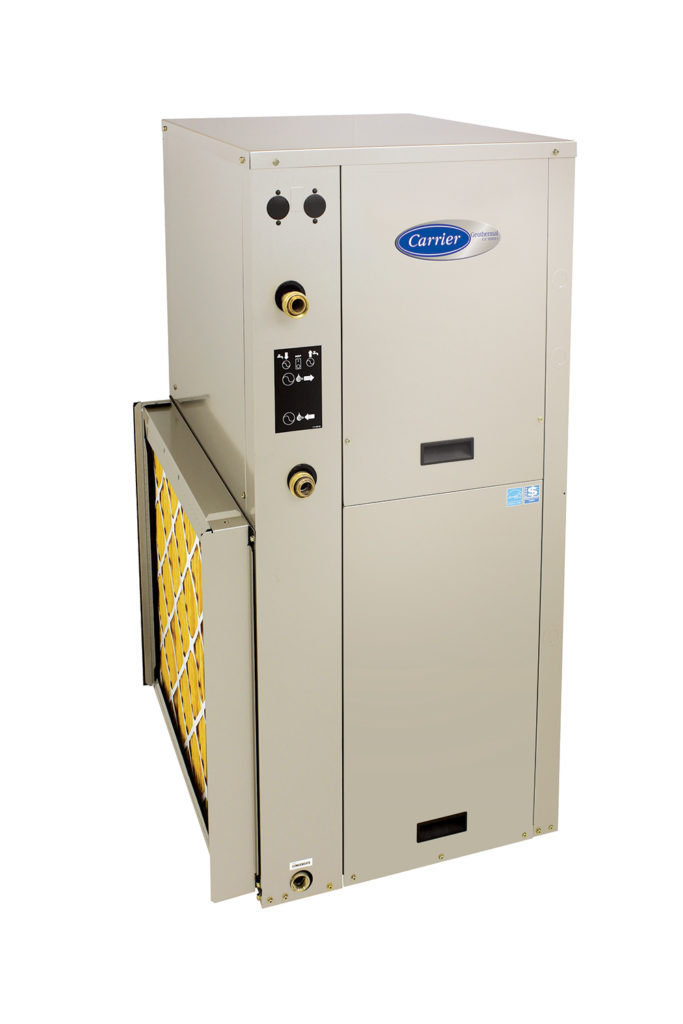 "As usual your technician was on time and provided me with great service. He was able to quickly identify the problem and get the system up and running in no time. Once again thank you for your company's integrity and professionalism."

"The technician was very professional, thorough, and helpful. You all truly exemplify high quality customer service."

"I couldn't be more pleased with the service I received and will recommend your company to everyone I know. The technician represented your company in a courteous and professional manner."

"From the first man that came out to evaluate our situation to the finished job, we cannot say enough good things about the courteous and efficient manner in which they all conducted themselves. We will be sure to pass your good name on to friends and neighbors."

"Your employees did outstanding work and are truly outstanding representatives for Tommy Garner A/C."

"Tommy Garner Air Conditioning & Heating has been the HVAC contractor at the Virginia Living Museum since 2012. The equipment they service is essential to life support. I never have to worry about response time – day or night, weekend or week day.The staff at Tommy Garner have proven themselves to be knowledgeable professionals who instill complete confidence. The commercial side of the Tommy Garner organization has proven to be a great asset to the live collection at the museum. As a Facility Director, I have worked with a variety of HVAC contractors over the years and I can say with absolute confidence that Tommy Air Conditioning & Heating has the best commercial engineering staff and professional technicians I have had the pleasure to meet."